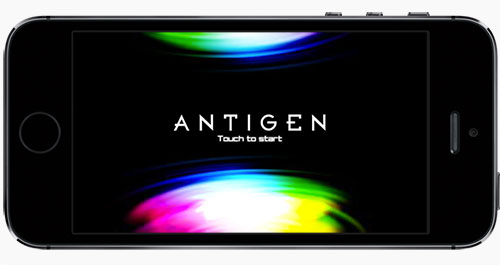 Antigen is a fast-paced abstract shooter available now on the App Store. It has its own site at antigengame.com. Inspired by a number of long-forgotten 8 and 16-bit games, Antigen places you in control of a nano-tech combat ship that skims the edge of an elliptical arena. Within this arena are countless swarms of biological foes, multiplying toxic cells, physics puzzles and particle effects. You must destroy all enemies before they hit the edge of the ellipse.
Antigen was originally called Toxin, until I was forced to rename it. It was based on an idea that I began to develop for Windows CE during the Gameonthego days.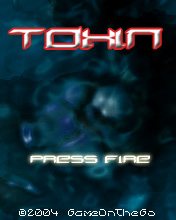 Original Toxin title screen from 2004 on the Windows CE-based Orange SPV smartphone (actual size)
It was written in C++ and Objective C (mostly C++). It uses my own game engine, TR-Engine in addition to Chipmunk Physics, the CocosDenshion sound library, and SBJSON. I wrote my own level editor too, using Cocoa and Objective C. I also created all of the sound effects, and wrote all the music. The title screen track was the first complete tune I ever composed, the main game music (as heard in the video) was the second!
The look of the game was inspired by the graphic designer James White, old Roland synthesizers and the Dievas Aqualuna Diver's watch. The artwork was created using Photoshop, 3D Studio MAX, Processing and DPaint IV. I used Processing and Photoshop scripting extensively to create animated image processing effects.